Today's interviewee is near and dear to my heart. I trust her. We work at the same hospital, live within miles from one another and serve together on a medical staff committee. What we also have in common is that we both graduated from medical schools located in the Caribbean, though at different times and from different islands. We constitute a unique category of IMG's and the category I have first-hand experience with.
You see when the ECFMG reports data on IMG's it does not categorize us based on the Caribbean versus non-Caribbean FMG/IMG's. So oftentimes the distinction does not carry weight when it comes to data collection & reporting. To them, an IMG is an IMG. Period.
But there is a subtle difference.
Students of Caribbean medical schools have the opportunity to rotate at US hospitals as part of their medical curriculum (3rd & 4th-year clinical rotations). This gives them more networking power over graduates from non-Caribbean medical schools without any US clinical experience! Though we (FMGs from Caribbean schools) often fail to harness that! This is exactly why during my online course from June 22-July 20th, we have a whole LIVE session planned just around networking techniques that create likeability for IMG's/FMG's. Check it out here.
That said, programs do hone in on the type of school that an IMG graduated from. Such as is it "a highly rated Caribbean medical school versus not". We all know there are programs that do not even look at applications from students from Caribbean medical schools, but for those that do; in my observation, they seem to prefer the top 4 – one of which Dr. Sarkar is an alumna of. But let us just get into this interview:
Dr. Lum: Thank you, Doctor, for accepting to be interviewed by theencouragingdoc.com. We will jump right into the Q& A.
Dr. Lum: Please tell us a bit about yourself.
Dr. Sarkar: I am Dr. Aishawarya Sarkar a practicing OBGYN for 6 years. I was born in Maryland and grew up in Texas. But for undergraduate and graduate education, I went up to the North East. I realized I wanted to study medicine during undergrad and like every American, I took the MCATs and applied locally but did not get into any of the US medical schools I applied into. My friend who was in a Caribbean medical school (after several hurdles of her own) went to Saba University for medical school. So after my dilemma, I contacted her to discuss my options. She first advised research for one year which I did not want to do so I applied to a couple of schools in the Caribbean and got waitlisted until I heard back from St. George's University. At that point, it was a no brainer. I moved to pursue my dream.
Those turned out to be the best years of my life thus far. I loved studying and putting in the effort, but I was younger (laughs) and had tons of fun between studying. Oh, Dr. Lum, I was daring and adventurous back then. The first 2 years of medical school (basic sciences) were in Grenada, the 3rd and 4th years were clinical years at various teaching hospitals here in the US. So by definition, I am a US-IMG (US person who graduated from a school outside the US) or FMG (Foreign Medical Graduate).
When I was in a medical student at these hospitals I remember immersing myself into the experience. I went to Brooklyn, NY area hospitals for my 3rd and 4th years of medical schools & successfully graduated from SGU (St. George's University) in 2009.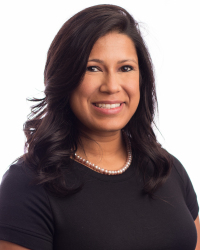 Dr. Lum: Tell us about your current practice.
Dr. Sarkar: I completed an OBGYN residency in 2013 at LSU (Louisiana State University) with board certified in OBGYN. My residency years sucked (like all residency seasons) but it was a great learning experience. I am currently in a private group practice with a good mix of Obstetrics & Gynecology and I love it. I also work in an Opioid Addiction Program assisting expectant mothers who are fighting opioid abuse disorder.
Dr. Lum: Can you share tips on USMLE prep?
Dr. Sarkar: I studied the summer between the 1st and 2nd years of basic sciences, that was 2006 I think. I took 2 months off to study. I primarily used Kaplan notes, audios, and videos alongside Goljan lecture series. I also used USMLEWORLD for questions and practice. The hard part was filtering what resource to use, so I stuck with Goljan & Kaplan. I did well, back then it was a 2 digit score and I scored in the high 90- something percentile.
Step 1 scores matter a lot for people who want to match into OBGYN. For some reason, step 2 doesn't carry that much weight. Almost as if it is considered to be easier or that clinical knowledge gets better with practice? I am not sure why. When I was in my last year of residency I interviewed residency candidates at LSU. We really looked at scores heavily. We also loved to pick locals, so I recommend IMG's should select programs close to them.
Dr. Lum: So I know you have you to tons of experience with OBGYN residency applicant selection from your time, can you give us tips? Tons of my readers want to know what to do in order to match.
Dr. Sarkar: When I applied, I applied to 20 programs. Got 16 interviews and took 14 of them. I interviewed at 12 programs, ranked 6 of the 12. I eventually matched into my 3rd choice (LSU). I ranked Temple University & Drexel University as number 1 and 2 respectively but got my 3rd choice. At first, I was devastated but when I look back I loved it at LSU. I was the only one from another State out of 7 of us who were new interns there at the time. 2 of us out of 7 were IMG's. All other 5 interns were locals with some ties to the state of Louisiana/LSU. I believe my IMG counterpart was a graduate of the American University of the Caribbean.
Once in residency training, I participated in the residency applicant selection process. I learned a lot from that experience. My top tips: scores matter, location matters!!
Let me explain. Work super hard on step 1. Find programs in areas where you can claim ownership or proximity. Many programs like people who are invested in the community and they want to retain, so do not neglect programs in the states you have ties to. I was from TX and matched in Lousiana, proximity helped. We also looked at people who had some type of research experience, I mean some times it was ridiculous even if you washed the petri-dishes in the lab, it had value at the time because OB programs place so much value on research. I recommend you do some type of research, you're a student and not going to be the lead on the project and they know that. But your experience with that matters. Volunteer work helps; such as community projects that influence healthcare promotion. I remember including my experience building a diabetes clinic into my CV & it became I a talking point at interviews. I also have an MPH (Masters in Public Health) so that public health background also helped me. The next tip is funny when I think about it but — you almost have to create a passion that the program can read and see in your application, whether it is real or not. Just do whatever it takes to survive. Life is tough as a student already.
Oh, I also recommend this strategy I used – I pick out programs that hired previous graduates from my school and applied into those. You just need to pray that they had a positive experience with that graduate, otherwise, that could be to your disadvantage.
Dr. Lum: You are awesome! Are there any struggles you want to share?
Dr. Sarkar: I had my share of challenges. I dated this one guy and it didn't work out but when I applied into residency I was fixated on matching at a program close to his first choice. That was my reasoning for ranking the Pennsylvania choices a lot higher even for a clearly failing relationship. So my greatest advice is to follow your own passions and not to risk your career for a partner who isn't equally invested. Make wise choices, choose you!
Dr. Lum: Looking back at the journey to get to where you are at, what advice would you give to yourself looking back at the process?
Dr. Sarkar: Don't be closed minded. Be open. The world is not your oyster. As crappy as that sounds, if you are persistent and liberal things will work out. I think the IMGs who struggle are the ones who underlook programs or locations and are fixated on only a set of programs.
Dr. Lum: What is your mantra for your success thus far?
Dr. Sarkar: Keep your eyes and ears open.
Thanks for reading guys. Come back for more next week! Unfortunately, Dr. Sarkar doesn't do social media so I don't have her handle to share. You can send her a fax or a telegram instead hahaha!